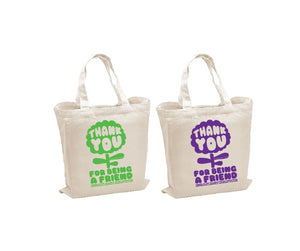 Friends of the Village is the fabulous P&C Association supporting the even more fabulous Lindfield Learning Village! We are an amazing community of engaged and supportive individuals who come together to form a collaborative, welcoming and innovative collective. We're all super proud of being an FOTV Member and we want you to be proud too... what better way to shout out loud who we are and what we do than a gorgeously designed tote bag, perfect for all your carrying needs at school, work, sport or shopping!
Designed by our very own Lou Broadbent, these high quality 100% cotton canvas tote bags measure 380mm x 425mm and feature an over the shoulder handle. They come in two different colours - Green and Purple - so grab one of each today and use it with pride!
Please remember to include your student's name and Stage so we can get your totes home to you easily.